The Blue Ridge Fiber Guild will meet on Thursday, Aug 16, 6:30-8:00 at the Western Watauga Community Center. Members are invited to bring fiber art projects (finished or not) for the September exhibition at ArtSpace. Also on display will be many of the projects from the natural dye workshop last week. View pictures of the workshop here.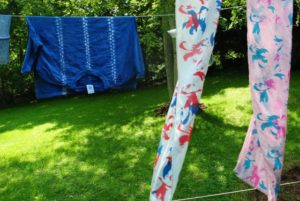 We are planning to have the Macomber loom there for members to demonstrate, and need volunteer weavers and spinners with wheels. Rhonda Gladden has warped the loom in an 8-harness point twill pattern, and members who want to weave tea towels can come in throughout the next few weeks.
A second "Indigo and More" Workshop is being offered at Redwing Studio by Susan Sharpe and Ellie Hjemmet on Saturday, August 25. Dye vats will be available again in indigo, osage orange, myrobalan, walnut, natural indigo, and umbilicaria lichen. Cost of the workshop is $75 for non-members, and $65 for members. Contact Susan Sharpe at redwing@skybest.com for more information and to register.
It's that time – to show off. If you want feedback on your potential projects for the show – please bring and let the group know if you are having any problems, or think it's too bit, or too small….etc.
Here are the forms from the Arts council about the show
September Fiber Guild Show Forms
Artwork delivery dates: Tues, Sept 4 from 5 -8 pm or Wed, Sept 5 between 12 and 1 pm
Exhibition Saturday, Sept 8th through October 6th
2nd Saturday event – Saturday, Sept 8 from 5:30 – 7:30 pm.. Please be there by 5:15 pm
Pickup artwork October 9 between 10 am and 6 pm
Here are the folks who have signed up so far –
Marketing – Susan Sharpe and Rita Collie
Hanging – Jane, Pat Moritz, Susan Payne
Refreshments: Sali Gill, Janeen, Rhonda G.