Grant Awarded to Our Weaving Class!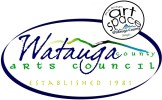 We are thrilled to announce that our weaving class was awarded a Grassroots Grant on the recommendation of the Watauga County Arts Council Board of Directors. We will be using this to purchase much needed equipment and supplies.
Our Weaving Class meets on Thursday (Thursdays during tax season) and Friday mornings from 9:30- 12:30. Weavers of all levels are welcome and newcomers are encouraged. We meet at the Western Watauga Senior Center.
Cost for the class is $3.00/class and Seniors no charge. There is also a materials fee charged for each completed project.
There are no upcoming events to display at this time.